When it comes to your special day, nothing should be left to chance.
And when it comes to wedding catering, our many years of experience shine through.
Regan George Catering Services are experienced wedding caterers in Derby and Nottingham. We understand just what it takes to ensure your big day runs smoothly.
Many customers have entrusted their wedding catering to us and, as you can see from the feedback from our previous customers, none have been left disappointed.
Our friendly, efficient and professional team will ensure that both our catering and our service leave you and your guests delighted.
From the moment our services are requested, we will work closely with you to ensure everything is just right for your big day.
We don't believe you should be restricted in any way on your wedding day so, through our personalised menu service, we will work with you to design the perfect menu for your guests, suiting all preferences, dietary requirements and budgets.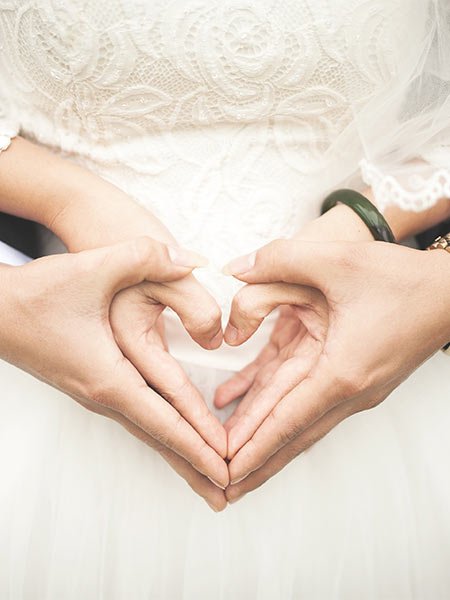 "A very big thank you to yourself and your team for making our wedding reception such a fabulous success, we were absolutely thrilled with everything."

Peter & Sue Simon, Bolsover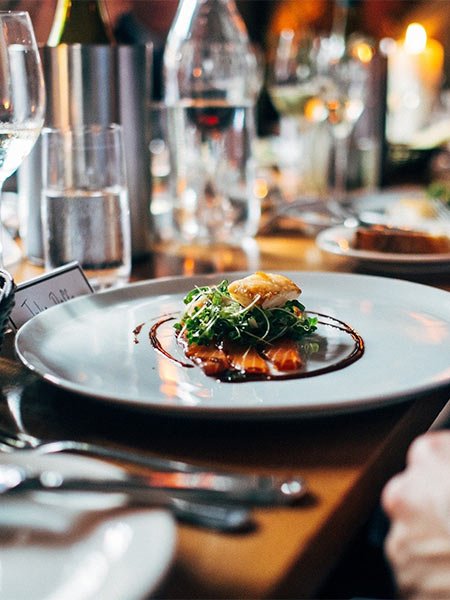 In addition to our professional wedding catering services, we can also help with the arrangements for other key aspects of your wedding reception.
This includes supplying services such as marquees, bars, silver service staff, Master of Ceremonies, live entertainment, DJs and bands. Our complete wedding event management service takes much of the stress and hassle out of the planning of your day.
Through our large network of contacts, we're also able to help keep your costs to a minimum as we are often able to provide these services at a much-reduced cost.
It's always a delight and an honour to be a part of a couple's special day and we look forward to being a part of YOUR day. To find out more about our wedding catering services, please contact us for a friendly, informal chat today.
Call us on 07806 780944, or email us via [email protected]. You can also contact us via our online enquiry form.

customer feedback
Our wedding catering customers say…
Peter & Sue Simon, Bolsover
Dear Ian, We would like to say a very big thank you to yourself and your team for making our wedding reception such a fabulous success, we were absolutely thrilled with everything. The buffet you served was superb, as was the service you and your staff provided. Without a doubt you managed to provide for us exactly the right combination to make a wedding reception perfect. It was just what we hoped it would be. Many many thanks,
Peter & Sue Simon, Bolsover
Tim and Kate Broughton, Diseworth
Dear Ian, A letter of thanks to you and your team for the fantastic food and service you delivered on our Wedding Day (24th June) at Elvaston Castle. We felt the day ran extremely smoothly thanks to your skills and organisation as MC, and the food was superb. We have had so much excellent feedback from our guests about the meal, especially that the beef was 'the best ever tasted and cooked to perfection'. We will definitely feel confident in recommending you to anyone else for caterers around the area! With kind regards and many thanks again,
Tim and Kate Broughton, Diseworth
Mr Gordon Smith
Dear Ian, On behalf of Janet, Mr & Mrs Gordon and myself, I would like to express thanks and extreme gratitude for all the hard work and effort put in on July 14th. For Janet and I, the day was the fruit of 12 months labour and naturally will be memorable. Amongst the many cards we have since received expressing thanks, what stands out is the subject of food and high quality of service provided which continues to come up in peoples comments. Which to us confirms we made the right decision in choosing Regan George Catering Services. I personally feel what sets you apart from others in an industry that perhaps is generally judged on the quality or quantity of food on a plate is your professionalism, which for me is as important as the food on my plate. Parting with money for me is never an easy experience but in this case I firmly believe we received true value for money. Thank you, for helping Janet and I celebrate one of the happiest days of our lives. Regards,
Mr Gordon Smith
Sean Potter, Castle Donington
Dear Ian, I would like to thank you very much indeed, not only for your superb standard of the catering provided by your Company, but for the manner which the food was laid out and presented. It really did justice to the setting at Aston, and all of our guests have commented upon the wonderful fare. Your professional and quietly efficient manner as 'M.C.' was so greatly appreciated by Judith & Darren, and both their families. Clearly you have a 'tried and tested' working relationship with Anne Hudson and Jennie, which ensures that everything runs smoothly on these occasions. All of this has contributed in no small measure to what was a very happy day for us all. May your business go from strength to strength, as it clearly deserves to do. Yours sincerely,
Sean Potter, Castle Donington
Joseph and Valerie Handley
I was meaning to send you this thank you note for a while now, but time flies and other little jobs creep up on you, however, here we are. I would like to congratulate you and your staff on the thoroughly professional manner in which you approached the new Mr & Mrs Dunn's wedding the Saturday before Christmas. All guests highly commended the way you had organised the reception, tables, layout, quality of food and excellent service at my daughter Emma's wedding at Ashby Town Hall. There are times when you really appreciate the hard work others are doing behind the scenes and we can not thank you enough for the superb and smooth running of this special day for us and thank you on behalf of all our guests. Best regards,
Joseph and Valerie Handley
Sarah and Tony
To everyone at Regan George Catering Services, A belated 'Thank you' to all. The meal was fantastic and the place looked superb. We really had a great day and you all played a big part. Thanks again
Sarah and Tony
From small buffets to multi-course meals and catering for big events such as weddings, christenings and public functions, Regan George Catering Services are the perfect choice for anyone looking for caterers in Derby, Nottingham and across the East Midlands.
To find out more about our services and to discuss your own personal catering needs with us, contact us today for a friendly, no-obligation chat.